AYAM EIN LORV WIF GBUMAYE!!!!!!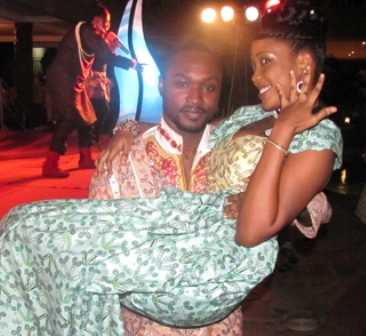 It is said that if you can't explain something to a 6 year old, then it is probably because you don't understand it yourself. This quote comes to mind as I struggle in my attempt to explain the rationale behind the 'REALITY' TV show, 'I AM IN LOVE WITH BUMAYE'. It's probably because I do not understand it myself, or maybe I am just simply refusing to accept the intended meaning of the show as it would be a betrayal of my intellectual capacity to see any sense in it. Nevertheless, I will try.
Okay, this is a show put together to find a life partner for a  bachelor who shot into stardom after representing Ghana at the Big Brother Africa reality TV show. So he lives in an apartment with ladies who are not really in dire need of a husband as much as they are of sound beating and discipline from the proverbial old woman. Eventually, this young  man selects one of the ladies as his choice and then the ultimate goal of the show is achieved- getting a life partner for this handsome young man. Amazing, isn't it?  I mean the lives of the house-mates of this show couldn't be that boring, or could it? *shrugs* I have a huge problem with the entire show to the extent that I can't believe it was carefully planned and then sponsorship was sort, for it. First of all, I have a problem with the interpretation of the word 'reality' by the smart brains behind this show. If there's anything I know about reality then it has to do with issues on the ground better yet the hard facts of life that everybody can relate to. Reality has nothing to do with satisfying the lustful pleasures of somebody, putting it on TV and merely calling it reality. I mean, what is real about young ladies  appearing on TV and showing forth their desperation in getting a single man to love them? This is far from reality. Yes, there are ladies who are desperate in their search of a life partner but an exaggeration of this reality distorts the truth in it a little. How this idea entered the minds of the organizers of this show is totally beyond me. If there is anything that I think is killing the moral standards of this generation,   it is the fact that we put so much effort in trivial issues and less effort in more vital ones. Of what use is a bachelor's inability to locate his wife to the entire country? Who cares? Yet this microscopic issue has been magnified to the extent that it looks like an issue of national concern and maybe parliament should sit and pass a bill on it. The fact that airtime was bought even blows my mind. Yet, the National Science and Maths quiz is off TV because it lacks sponsorship. It is simply amazing how the singlehood of a young man seems an issue of national concern than healthy educational competition amongst Senior High Schools. We would have to set up a team of investigators to look for our priorities, because trust me, we have totally misplaced them.
I am not ranting because the show came to the successful end of the gentleman finding a partner, no! I am talking like this because the media made a huge fuss about the fact that the relationship didn't work out as expected. As expected? You mean there were people out there who actually thought a relationship built on such feeble moral grounds could last? Hey!! I am not a pessimist, but honestly I think the relationship lasting a few weeks was even a fluke. Just take a look at the picture above, as this young man holds the lady in his arms like a trophy. You know the moral standards of our nation is falling when there is actually a competition that has a woman as the ultimate prize. And where on earth are the Women's Rights Activists? Isn't this demeaning enough?
Speaking of Women's Rights  Activists, one name comes to mind – Nana Oye Lithur. Definitely she is in the news again. I watched just a few minutes of her vetting and I must say I was impressed by her zeal to fight for the rights of homosexuals. Somebody has to do that – fight against violence against homosexuals in our society. She basically kept my mouth wide open in moral electric shock when she beat about the bush concerning her stance on the issue of homosexuality. One of the members of the panel tells her the bible's stance on the issue as if that will suddenly remind her of what the good book says about the issue, but it doesn't. And this is where she knocks me out completely, when she says 'morality is subjective'. Wow! I thought only atheist said this.
I'd like to say to her, morality is  never subjective. There is an ABSOLUTE MORAL LAW, which means there is an ABSOLUTE MORAL LAW GIVER, and he is in the person of JEHOVAH. So in our bid as human beings to eliminate the absolute moral law, we end up attempting to eliminate God, trust me, it is impossible. Actually, it will be easier for one to pack a galaxy of stars into his laptop bag.
You might be interested in